Mission Outreach
Asian Ministry Outreach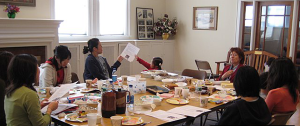 Our Asian Ministry Committee seeks to foster communication and understanding among various Asian groups, as well as between Asian and non-Asian people. In the past we have organized community forums to discuss various issues of common concern. We also host cultural events to expose Americans to Asian Culture. A basic Bible study meets most Sundays after church, for people who speak English as a foreign language. We also provide weekday classes in English conversation, taught by volunteers from the congregation. For more information on English classes, please visit www.LearnEnglishinLeonia.org.
Oelaf House Shelter
The Oelhaf House is a safe home for the victims of domestic violence who have had the courage to leave abusive situations and now are preparing to begin their lives afresh. The shelter is owned and maintained by our Church, with the help of an interfaith board of volunteers from the community. The program and support for the residents is run by Shelter Our Sisters.
Loaves & Fishes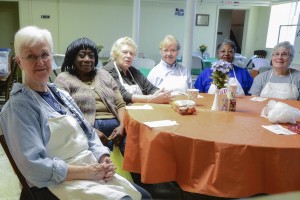 A team from our church participates in this weekly "soup kitchen" at the Bethany Presbyterian Church in Englewood, along with Bethany and three other congregations. We provide a hot, nutritious midday meal and bag supper for up to 50 people. Food donations are collected every Sunday for Loaves and Fishes and the Center For Food Action. We ask that people bring the following frequently used staples and place them in the basket in the front of the sanctuary: Canned chicken and beef broth (preferably low sodium), canned diced tomatoes in juice, canned whole potatoes, whole kernel corn, peas, cut string beans, red kidney beans, cannelloni and chick peas, canned pears & peaches, pineapple cubes or tidbits, pasta: elbow, rotini, ziti, spaghetti, canned tomato soup and mushroom soup, instant mash potatoes and powdered and plastic bottle juices (no glass please).
Youth Group
Every Sunday evening (since 1968) the Youth Group meets at our church for discussion and fellowship. The youth group provides teens a place to talk about spiritual, ethical or social issues that are important to them in a supervised environment. Any teenager (9th-12th grade) who lives in Leonia, or who attends one of Leonia's churches or synagogues is welcome to participate. Currently there are 2 adult advisors and about 15 teens involved.
Day Laborers
Our church provides weekly meeting space for Guatemalans United for Development (or G.U.D.), and meeting space and support for a larger group, Community of Friends in Action (CoFIA), that seeks to provide support services such as leadership training, legal counsel, and English language classes to immigrant day laborers who work in the area.
Family Promise Homeless Shelter
In co-operation with other houses of worship our church volunteers with Family Promise to help homeless families in Bergen County. Family Promise provides social workers and guidance to the guests, most of whom are women with children. They have become homeless because of fire, unemployment or an abusive situation at home. Volunteers plan and cook an evening meal for the guests and stay with them overnight. A different religious community serves as host each week. Our church is a support congregation, serving three weeks per year.
Annual Construction Project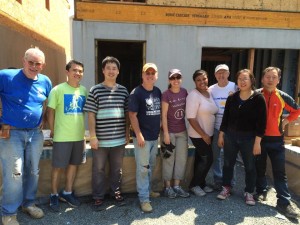 Our church volunteers several days every summer with Habitat for Humanity helping to build homes for people in need. In the words of Habitat founder Millard Fuller, "Our Christian faith mandates that we do more than just talk about faith and sing about love. We must put faith and love into action." No skills are required but volunteers must be over 16 and in good health.
Children of Uganda
Our church supports an orphanage run and funded by "Children of Uganda". Click on http://tandcinuganda.livejournal.com for pictures and an account of our pastors trip to visit in 2006.